A Comprehensive Guide to Garden Fountains and Water Features
Simple and Serene in Any Setting
In the past, the idea of adding a water fountain may have been perceived as a daunting task but thanks to the convenience and durability of premium, lightweight materials and innovative new designs, those misconceptions have been eliminated. It has never been easier than it is today to add a stunning water feature as a focal point for your deck, patio, yard or garden. Here, we offer our advice and guidance into the wonderful world of fountains.
Understanding the different fountain types helps in selecting the right fit for your space. Freestanding is the most common, these are self-contained units that use a small recirculating pump to create a water feature; no plumbing required. Typically a decorative sculpture or figurine houses a discreet reservoir holding the water supply. "Plug and play" designs are the most convenient of this type, where the user unpacks, adds water and connects to a power supply.
Typically, setup takes about 15 minutes, however, some larger multipart designs require some additional assembly, which is outlined clearly in the included instructions. Regardless of the size, freestanding fountains operate best on a stable and level surface.
Pond fountains are generally thought of as a variation of sprays emanating from a reservoir of water, much like the grand displays of water at the Bellagio in Las Vegas. These include dynamic Bell, Tiered, Trumpet and Bubbling jets sprays which are generated through attachment to a recirculating pond pump.
This type of fountain can be a little more complex, as they require proper plumbing, not to mention a reservoir or pond to draw water from. That said, the Pond Building Series® line of products offers everything needed to create one with ease, including a series of Pump and Nozzle Kits intended specifically for this purpose. These types of installations can take an afternoon or all weekend, depending on size and complexity of the job.
Comp-Cast®
The benchmark of quality in the poly-resin industry, Comp-Cast® is a blend of stone, fibre and resin, that provides strength, durability, and the ability for stunning detail. Forming a synergy between convenience and quality, this premium material is designed to stand the test of time and infused with colour to lengthen finish retention.
NuCrete®
Premium fibre reinforced concrete material that delivers the strength and durability of traditional concrete products, without the cumbersome weight. This industry leading material allows for richer textures and colours with higher durability and strength, creating a superior product that is more convenient to assemble and use, and most importantly, affordable. This natural stone material has a quality feel that transcends today's plastics and alternate materials. Heavy enough for secure placement, yet light enough to safely move and handle, offering the ultimate in convenience and quality.
In addition to the intrinsic benefits a fountain offers, such as the soothing sound of flowing water, they are also a great way to complement or enhance your surrounding decor. As there are endless ways decorate your outdoor space, so too are the options when it comes to choosing a fountain. To simplify the process, one can breakdown designs by three key categories as follows.
Classic
Timeless and Refined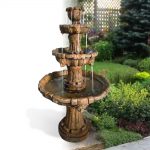 Timeless designs that complement virtually any setting with a mostly European flare and "old world" aesthetic. Traditional Tiered Fountains best represent this category and are most commonly constructed from NuCrete®. These distinct classic designs are great as a statement piece, focal point of your garden, or as a decoration for your deck or patio.
Casual
Nature-Themed Inspirations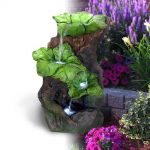 This category offers the perfect finishing touch to your garden, deck or patio and is best represented by nature-themed designs, often with a fun and whimsy focus. Jugs and waterfalls, with rock and wood formations, create cascading streams that invoke an atmosphere that lends itself to relaxation and conversation. Generously flowing water emulates nature in action, creating sounds that help focus our attention in a Zen-inspired space, or block unwanted noise from surrounding neighbours or traffic. Decorative birds, animals, and even gnomes lend a playful feel to many designs that promote harmony with nature and our surroundings.
Contemporary
Striking Modern Flare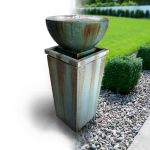 Softened and rounded clean lines, with simple, sometimes oversized shapes are hallmarks of this category. Modern meditative orbs, dynamic fusions of style and purpose blend harmoniously and often feature sparkling LED accent lighting for a real statement piece. These designs of shape and form add a touch of mystery and provoke scintillating conversation as they integrate the subtle flow of water through their appealing structural characteristics.
under

$100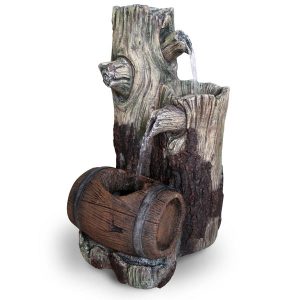 This price range commonly offers simple and casual themed items, ideal for deck, patio, and even indoor use, in the 12 to 18-inch height or width sizing. Typically these are very lightweight standard grade resin (or plastic) materials, with very few parts or add-on accessories. These typically include a lower flow UL certified pump with a short cord.
$100 – $150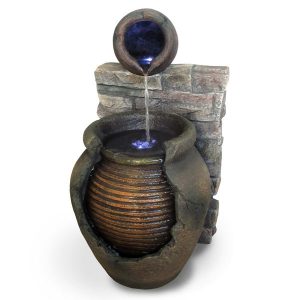 This range features more elaborate styles and themes, with increases in the typical size of 16 to 24-inches in height or width. Multiple part assembly is more common but often without locking components (as is included in higher-grade items). Resin and in some cases NuCrete® are most commonly used in their construction. Pumps are UL certified, typically ranging from 60 to 100 gallons per hour (GPH) with a 6-foot cord.
$150 – $250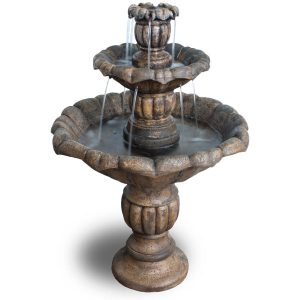 This range offers a wide assortment of styles in the 20 to 30-inch height or width size range. Multiple part assembly with locking components is mostly standard. Fountains will also typically include a 100 to 170 GPH UL certified pump with a longer 10-foot cord. Splash protection and other operation enhancement accessories are often included. Premium colour infused Comp-Cast® and NuCrete® materials are standard.
$250 – $350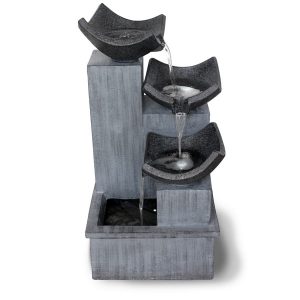 This pricing range again includes a wide assortment of styles, typically in the 26 to 40-inch height or width. Multiple part assembly with locking components are mostly standard; oversized 1-piece waterfalls are also common. Premium colour infused Comp-Cast® and NuCrete® materials are standard, as is a UL certified pump with extra long cord. Accessories such as splash protection and levelling shims become standard equipment.
Over

$350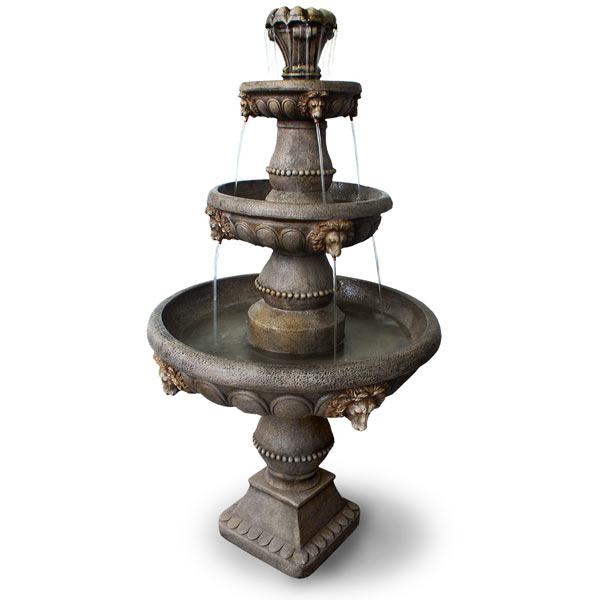 Premium designs typically range from 30 to 60-inches in height or width. Multiple part assembly with locking components are mostly standard, as are oversized 1-piece waterfalls units. UL pumps are included and range in size, offering dynamic water flow, energy efficient operation and extra long 15-foot cord for added convenience. Any necessary accessories are included to keep the fountain performing at its very best and features like the Safe-Stop™ pump protection technology and PumpJacket™ fountain pump filters are included with many models. Premium colour infused Comp-Cast® and NuCrete® materials are again standard.
While assembly of most fountains is typically a simple process, some will require a few technical steps and day-to-day care to keep them running and looking their best. As they increase in size and included features, the complexity of the assembly can increase but most can be completed in under an hour. Fortunately, Angelo Décor® fountains include detailed assembly instructions with advice on use and care, and in many cases, on-line videos to guide you through the process.
Water Requirements
Most important of all, the water component. While you won't need to plumb a water line (thanks to the included recirculating pump), you should be mindful of the amount of water required to keep your fountain running; this includes both how much it holds, splashes and how frequently you'll need to fill it up. As a general rule, it's good practice to plan to top-up your fountain every 3 to 4 days as needed. Items with a higher tendency to splash are ideally placed in a garden setting that will benefit from the splashing water for the surrounding plants. Fountains with a lower tendency to splash are better suited for a patio, deck or entranceway use. If splashing is a concern, utilize the splash-preventative accessories that may have been included to help retain water and prevent slipping hazards that can occur from accumulating water around the perimeter of the fountain.
Winter Storage
Winter Storage in climates with freezing temperatures is a mandatory step in honouring the warranty of your purchase, but more importantly, in protecting your investment. These harsh conditions are hard on all materials; specifically, the extremes of the freeze and thaw cycles that can lead to damage that may not be repairable.
The most common issues stem from the water that is contained within the fountain. The tap water available in many regions often contains minerals and levels of hardness that can over time build up, leaving a residue that is hard to clean, which can ultimately degrade the finish. We recommend applying a high-quality polyurethane clear sealer to your fountain before your first use and on a seasonal basis as needed. Additional treatments are encouraged to areas that are submerged in or affected by the water.
Pump
This mineral residue can also accumulate inside the working parts of your pump. For this reason and to help extend the life of the pump, monthly maintenance is encouraged by cleaning the impeller and parts with a 30%/70% vinegar and water mixture.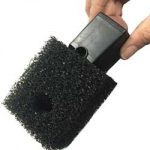 A fountain pump filter, like the new PumpJacket™ is an ideal way to protect your pump from buildup of debris inside and will help to extend the life of the pump.
Most importantly, the simplest and most effective way to maximize the life of a pump is to keep it completely submerged at all times while in use.
Sun Exposure
Another factor that can cause premature wear to the finish of the fountain is prolonged, full and direct exposure to sunlight. Consider a location that offers shade during the hottest parts of the day. While these fountains are painted with premium finishes, again, applying a quality polyurethane sealer before assembly (and again annually or as needed) will help protect the finish against harsh UV rays.
Small Repairs
Small repairs are sometimes necessary to keep your item in peak visual and operating condition. Readily available epoxy putty materials (such as Oatey brand epoxy putty) are ideal for fixing a chip, leak or to rebuild an area missing altogether. These inexpensive materials will fix virtually any small leak, chip or area of damage. Conventional spray paints are an excellent way to touch up small areas that may lose a chip of paint.
Winter Storage
Winter Storage is a critical component of annual maintenance; always dry and store the fountain in a sheltered location before the onset of freezing conditions. In those occurrences where a fountain has been damaged from these conditions, repairs can be completed relatively easily with the use of repair materials, including epoxy putties, crazy glue, and spray or craft paints readily available at most home improvement stores.
Support and guidance can be found on these procedures at www.angelodecor.com/customer-support.
Lifespan
Properly cared for a fountain will provide years of enjoyment. Some of the most commonly reported issues pertain to the recirculating pump. Failing to keep the pump clean and properly submersed in water can cause the pump to run dry. While the pumps are designed to be resilient, continuous exposure to these conditions can cause the pump to fail over time. These types of issues can sometimes be rectified with troubleshooting and in worse case scenarios, replacements are readily available.
As for the structure of the fountain itself, colours and finishes will soften and fade over time, especially if placed in a location with prolonged exposure to sunlight. With some items, the gradual change in colour is unnoticeable and enhances the look of the feature as it settles into its place within your environment. Paint loss can occur within areas that are submerged in water; this is normal and considered a maintenance issue. If you desire, touch-ups are generally easy to do and most owners perform these during their seasonal take down or assembly.
Environmental conditions, specifically freezing temperatures pose the biggest risk to the lifespan of a fountain. The freeze and thaw cycle, specifically when water is involved can be hard on any outdoor accessory, including fountains. For this reason, proper winter care and storage is necessary to ensure a long lifespan of your investment. Always dry and store your fountain when these conditions exist.
Warranty
Most fountain components are covered by a limited one-year warranty, provided that proper use, care, and winter storage have been followed. The Use & Care manual include with our products covers the complete details on the warranty policies and procedures. As a family owned and operated business, we strive to offer over and above support solutions, including replacement parts and take pride in the best after-sales service in the industry.
Our website and YouTube channel offer a wealth of resources including instructional and operational videos.
"Assembly is difficult, possibly requiring professional help."
Adding a stand-alone fountain is one of the easiest Do-It-Yourself (DIY) projects there is. Most fountains can be assembled and running in under 30 minutes. As the most common issues arise from improper assembly or installation of an included accessory, it is strongly encouraged to follow the included instructions, using all included parts and accessories for best results.
"Operation requires an attachment to a plumbing water supply."
Fountains and water features do not require any special plumbing or a dedicated water line. A simple, energy efficient recirculating pump is installed inside the unit making this one of the easiest and most rewarding additions to your landscape; just add water.
"Pump and hardware must be purchased separately."
All Angelo Décor branded fountains include an energy-efficient pump with industry leading flow ratings and longer than average power cord. Included accessories, like LED accent lighting, are clearly detailed on the packaging, and other helpful accessories including levelling shims and splash preventatives are included in the box where necessary.
"Fountains require daily or even hourly monitoring, maintenance, and care."
Once assembled, maintaining a fountain is a relatively simple process. This can include adding water every 3 to 4 days or as needed, depending on outside temperatures and the amount of splash generated by the fountain; some designs splash more than others. Fountains with a higher occurrence of splashing, or those located in a hot or windy location can be connected to an outdoor timer to reduce the need to top-up as frequently. Pumps that include the Safe-Stop™ technology are specially designed for these conditions, and will turn themselves off in the occurrence of excessively low water levels.
Generally speaking, pumps and fountains parts will require some light cleaning on a monthly basis to remove any debris or build-up. A soft cloth and a vinegar and water mixture (30%/70%, respectively) can be used to wipe and clean as needed, followed by a thorough rinsing. For an added measure of security, a fountain pump filter, like the PumpJacket™ will help protect your pump and extend the time between cleanings.
Loving your fountain? Have a great idea for a new design? More questions? We love receiving images of our fountains in action. We'd love to hear from you. Look for us on these popular social sites: